Paratus is Offering One Day Flood Water Restoration Services to Monmouth Beach NJ Homeowners and Commercial Business Owners.
If you've suffered flood water damage to your Monmouth Beach home or commercial business, please call us  at 1-855-313-RENT.
Paratus is ready to assist you in all your Monmouth beach home water damage restoration needs. When your home or business suffers from flooding, it's critical to take care of it and dry out all the water and moisture immediately. If water and moisture isn't dried out quickly, mold can start to grow and thrive off leftover moisture from flooding, causing damage to your business or home. Not only will it cause damage, but it can also cause health problems for you, your family, your employees and even your clients!
The Paratus 
"One Day Restoration" Flood Water Dry Out & Mold Prevention
 Services for Monmouth Beach, NJ: 

1-855-313-RENT
Dries wood and organic materials deeper and completely through
Takes away moisture which mold needs to grow
Electric heaters 20kW 50kW 75kW 150kW have no chance of fire from open flames
Microprocessors ensure there is no structure damage due to excessive heat
Complete package includes generator, heaters and trailer
Operators monitor the equipment for 100% efficiency
A complete Time/Temp/Moisture report is generated
Complete Mold Prevention Services
Monmouth Beach Flood Restoration Experienced
 Contact Us Below for Free Quote on Our Monmouth Beach Coastal Flood Water Restoration & Dry-Out Services. 
1-855-313-RENT
January 3, 2014 – Monmouth Beach Experiences Coastal Flooding – 3 Rescued So Far!
MONMOUTH BEACH, N.J. (WABC) — Surge from the winter storm caused some significant and dangerous flooding in communities along the Jersey Shore on Friday.

First, a surging high tide trapped a mailman in Monmouth Beach. Rescuers from the Monmouth Beach and Long Branch Fire Departments came to his aid as the Shrewsbury River surrounded his truck at the intersection of North Road and Shrewsbury Drive.

Authorities said 4 feet of water surrounded the truck by the time they arrived on the scene.

CLICK HERE TO SEE PHOTOS FROM THE 2 RESCUES

The mailman is fine, and the mail was actually not damaged. In fact, the mailman went back to the post office, dried off and completed the rest of his route.

Soon after the first rescue, Monmouth Beach and Long Branch rescuers saved 2 people trapped in a car at Sailors Way and River Road.

Swimmers from Long Branch entered the water to bring the victims back to safety. The victims were then brought to awaiting EMS crews for treatment.

Significant flooding was reported in the Monmouth Beach area, and authorities urged people to avoid the area if possible.
Follow ABC's Article for more information here: http://abclocal.go.com/wabc/story?section=news/local/new_jersey&id=9380871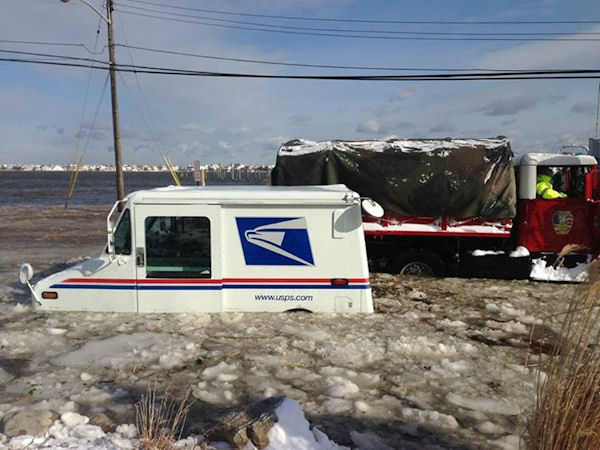 Call Us Today at 1-855-313-RENT